Nuevo Titulo Oficina de Prensa
Wayuu boy walks again thanks to innovative surgery
Wayuu boy walks again thanks to innovative surgery
Wayuu boy walks again thanks to innovative surgery
The outcome of this procedure not only allowed to rehabilitate and reconstruct the leg of a child, but also allowed the release of a scientific article in one of the most important plastic surgery journals in the world: Annals of Plastic Surgery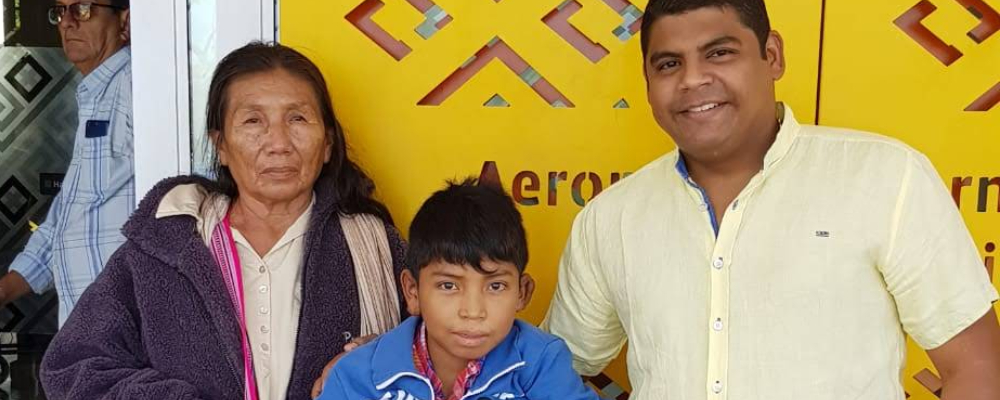 Editorial Keralty
|
1 September 2020
A 13-year-old Wayuu teenager suffered an accident in 2016 that resulted in severe burns to his leg, due to an incident with gasoline. His immediate medical attention was not possible, so the wound healed with natural procedures carried out in his home without the intervention of a health professional.
This caused the knee to not heal properly and to remain at a 45-degree angle, with a severe flexion deformity, which left the boy unable to walk again and with a number of mobility limitations.
Thanks to Dr. Germán Sánchez, anesthesiologist at the Colombia Clinic, who had the opportunity to meet the child in a health brigade with the Sanitas Foundation in La Guajira, and the Colsanitas plastic surgery service, the boy was transferred to Bogota.
The goal was to perform plastic surgery that promised to restore mobility to his left leg. Dr. Marcela Sánchez, Dr. Susana Correa and Dr. David Duque, assigned to the Colsanitas Clinic in Bogota, and four surgeons participated in this procedure: Dr. Geoffrey Hallock and Dr. Yi Xin Zhang from the United States; Dr. Dajiang Song from China; and Dr. Jaime Martinez, Orthopedist at Colsanitas.
For this surgery, the medical team removed both the burned tissue and the scarring that was preventing the leg from extending. Subsequently, they performed an ultra-thin microsurgical free flap using super microsurgery and reconstructed the defect to restore and rebuild the trauma area in the popliteal fossa (behind the knee) and a propeller flap to reconstruct the donating area that allows knee mobility.
During surgery, the doctors found out that closing the primary area, where the flap was removed from the inguinal region, was not possible, for this reason a second ultra-thin propeller flap was made based on a 1 mm perforating artery to achieve optimal closure for this area. Thanks to this procedure, abnormal scarring of the donating area (the groin) was avoided, as well as the risk of causing some deterioration in its future growth.
The last time the young man was seen, he was running happily through the halls of the hospital. Thanks to this surgery, he can now resume a normal life. The outcome of this procedure not only allowed to rehabilitate and reconstruct the leg of a child, but also allowed the release of a scientific article in one of the most important plastic surgery journals in the world: Annals of Plastic Surgery, evidencing this medical team's scientific quality levels.